All Shows
Ziwe: The Black Friend Tour
Ticket Price
---
Starting at $44
Presented by Live Nation
Ziwe is a talented comedian, writer, and actress, who has taken the Internet by storm and captured audiences nationwide with her signature candor, wit, and salient commentary on race and politics in America. She has been named to Forbes 30 Under 30 2021 and received critical acclaim by The New York Times, TIME, and Variety among others.
Hailed as the multi-hyphenate comedic voice to emerge from social media, Ziwe garnered attention during the early months of the pandemic with her provocative and hilarious interviews on her Instagram Live & YouTube talk series, Baited. The show featured interviews full of hard truths with the likes of Caroline Calloway, Alison Roman, Rose McGowan, and Jeremy O. Harris.
In 2021, Ziwe released an album of songs from her Showtime show titled, Ziwe: A Famously Iconic Soundtrack, which is available on Apple Music & Spotify, and she plans to release more music in the coming months. She is also in the process of writing a much-anticipated book of essays, entitled "The Book of Ziwe".
Performance Schedule
Audio Description
Open Captions
ASL
Swipe to see more details
Stay Connected
Sign up for our email list to stay up-to-date on all things Hobby Center. Or contact us with any questions and we will get back to you as soon as possible.
Upcoming Shows
The Ugly X-mas Sweater Musical
Nov 28 - Dec 24, 2023
Golden Girls: The Laughs Continue
Jan 23 - Jan 27, 2024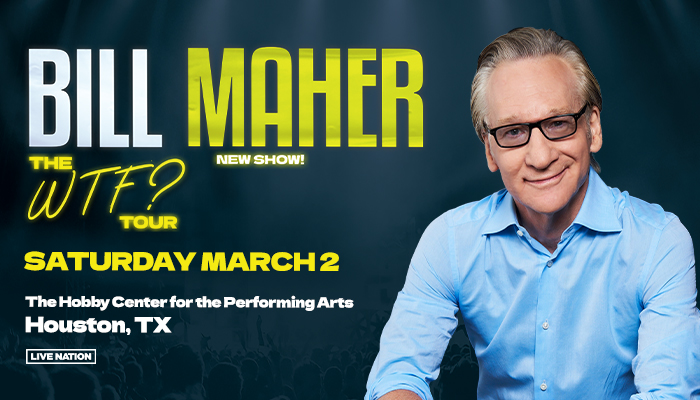 Bill Maher: The WTF? Tour
Mar 2, 2024